I've missed the last couple Sunday Social link-ups for various reasons (wedding, vacation, sick etc) but I could NOT let this one pass me by! Especially since it's about one of my favorite new purchases! ;)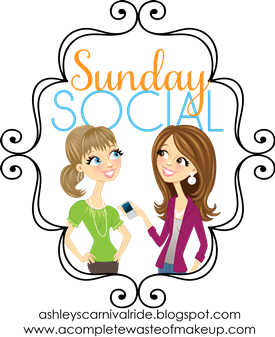 Favorite handbag you've ever owned
My new Louis Vuitton Neverfull GM in Damier Ebene! I bought this my first day in London (almost immediately after we got off the plane!) after saving for what seems like FOREVER and it has been my obsession ever since. I carried it the majority of the trip and it was a saving grace when you have to lug around all your rain-gear and souvenirs. Even my dad who was appalled at me that I was spending this much on a handbag came to
at least
accept it after I carried his stuff around all week :)
Dream handbag you lust over
Since I have acquired the bag I have been lusting over for years, I had to peruse through a couple websites to find another bag that captured my attention. I know I know it was a tough task, but never fear I did prevail...
I mean who doesn't love a classic black tote with a huge bow on top?!? Not saying I'll be buying this bag (or any bag for that matter) anytime soon, but if this beauty was to find it's
way into my closet I wouldn't be upset.
Of course there is the infamous Hermes Birkin bag that I think all girls lust over. Unless I happen to find myself a man as wealthy as Christian Grey, this will probably be a bag that I will be lusting over for a LONG time!

Daily essentials in your purse or work bag
Besides the normal basics like wallet, phone etc, there are a couple things that I don't like to leave home without...
Erin Condren planner (can't wait to order my new one!)

some sort of lip balm

body spray

sunglasses
What's in your purse(with pictures)
1. Union Jack umbrella 2. Badgley Mischka wallet 3. Michael Kors pouch 4. Erin Condren planner 5. Target wayfarers 6. Target coupon organizer 7. Gucci sunglasses 8. keys 9. Orbit gum 10. B&BW body spray 11. deodorant 12. hand sanitizer 13. hand lotion 14. pedometer 15. hairbrush
1. Gucci sunglasses (discontinued) 2. Target wayfarers (
here
) 3. Erin Condren planner (
here
) 4. Foray Porous Point Pen...don't bleed through the pages! (
here
) and random Fleet Feet pen
1. bareMinerals READY SPF 15 Touch Up Veil in Tinted (here) 2. bareMinerals Flawless Face brush (here) 3. Yves Saint Laurent Gloss Volupte in 6 Rose Cannele (here) 4. Revlon Colorburst lip gloss in 008 Peony (here) 5. Chanel Glossimer in 03 Glaze (here) 6. Revlon Lip Butter in 020 Brown Sugar (here) 7. Lancome Hypnose Drama Mascara (here) 8. Maybelline Instant Age Rewind Dark Circle Eraser (here) 9. Vaseline...great lip treatment! 10. EOS lip balm in sweet mint (here)
1. Bath and Body Works Fragrance Mist in Paris Amour (here) 2. Dove deodorant (here) 3. Bath and Body Works lotion in Carried Away (here) 4. Bath and Body Works PocketBac in Twilight Woods 5. Pedometer 6. hairbrush
Hope yall enjoyed this post! I can't wait to read all the other posts that link up!!