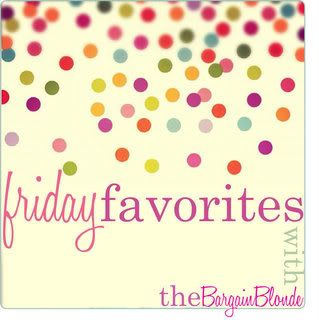 Happy Friday!!! Lindsey aka Bargain Blonde is re-resurrecting her Friday Favorites linkup and since she is one of my favorite bloggers and hosts one of my FAVE linkups, I couldn't wait to write my post!
This week's favorites are a nice random assortment...gotta keep it interesting around here!
Favorite shoes
I posted about these Ugg slippers in my birthday post and have finally gotten some good use out of them this week! Temperatures around here have gotten down to the 40s at night so I've been wearing them all around the apartment and to run quick errands. If you want some warm WARM shoes and don't want a full Ugg boot, these are the way to go!
Favorite Drink
After this past fun-filled weekend (or any fun-filled weekend for that matter), my go to food is McDonalds, for a number of reasons. For starters, it's the closest fast food restaurant to my aparment . Secondly, I do believe it's the perfect amount of greasiness without making you feel sick. I always go with the classic McChicken sandwich, medium fries, and a LARGE Diet Coke. Point of this story is I have fallen back in love with McDonalds' Diet Coke. I don't know what they do but their combination of syrup and carbonation is just perfection. I may have had 5+ servings of this liquid gold this week...and we still have Saturday to go.
*on a side note, how the heck was I able to write a whole paragraph about Diet Coke?!?*
Favorite App
Pandora has just not been cutting it for me recently so I downloaded the I Heart Radio app and it's all I've been playing! I love it because I'll just go to whatever music genre I want to listen to (Top 40 for example) and I can scan through all the different radio stations around the country. Best of all I can scan as much as I want and not be limited!! I was listening to the Top 40 station in NYC earlier this week right after Sandy hit and it was really interesting to hear locals talk about it and just how much it shut that city down.
Favorite Snack
Yall have GOT to try this combo!! The spices on the crackers in combination with the cheese is just SO GOOD! I had to stop myself from eating all the cheese wedges! If you can just eat one wedge, it's actually a pretty healthy snack too! :)
Favorite Beauty Products
One of these is an oldie but a goodie and other I just discovered. Maybelline Age Rewind Dark Circle Eraser is the best concealer I have found that works for me, drugstore or high end! I have this in a number of different colors depending on the time of year and an additional highlighter shade, and they are all awesome! My new favorite is Sephora's Retractable Waterproof Eyeliner in Glitter Black, which you can find
here
. I had to put a link cuz this stuff is AWESOME! I've been playing around with the eyeliners I bought in the Sephora kit I showed in my beauty haul, and this one is surprisingly my favorite thus far! When i went out this weekend I used this on my water line and it did NOT budge!! Dare I say that I like it better than the Makeup Forever Aqua Liner! It's very affordable at $12 and comes in so many colors! Do yourself a favor and check it out!
Well there you have it! My favorites for this week!! Please let me know if you have tried or are gonna try some of these things and link up with Lindsey!