I know I know...where the h*** have I been?!?! I have no excuses, only that I have missed this little blog and am hoping to get back into a writing routine. Especially since I have a couple of big events coming up in the next couple weeks, from my college roommate getting married to family vacation in London! So to kick things off....
I saw this link-up mentioned by one of my new favorite bloggers Meghan @
Shine On...tales of a twenty-something
and thought it would be a great way to dive back into things (even though I am a day late!)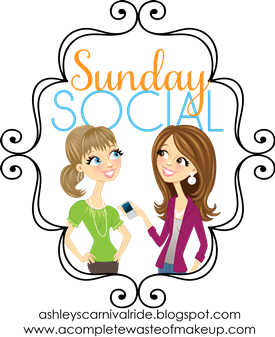 The Sunday Social linkup is hosted by Ashley and Neely, and each Sunday they are going to post a set of questions with a central theme with the main goal being so that you can link up on their blogs and get to know some new bloggers! I wasn't a reader of either blog before tonight, but I am definitely a follower now! With this being the first week of the link-up, the questions had a "get to know you theme"
How did you come up with your blog name? Originally, I named my blog carolina prep (see URL since I've never changed it), but about 2 years ago I realized I wasn't so much a fan of that name and decided to switch over the Sweet Carolina Girl. I think it's much more a representation of what my blog is about, as well as matches my twitter name (@swtcarolinagrl5) and other social media sites. If anyone has an idea how to switch over my URL lemme know!
What is your favorite thing about blogging? Hands down all the friends and people I have met. This is also largely in part to Twitter, but I would have never met any of the fabulous people I now talk to on a daily basis if it wasn't for the blogging world. I also love that even though we all live our crazy hectic lives, most of the time you're able to find someone who is going through similar situations you are and you know you aren't alone. I've said it multiple times but I so wish I lived closer to some of these wonderful ladies!
What is the one thing you have discovered because of blogging and now can't live without? O my goodness, there are so many things. Erin Condren life planners (SOO excited about the new planners coming out!), Etsy, flash sale websites, new makeup products, the list goes on and on and on!!
Facebook or Twitter? and why? TWITTER!! Even though I haven't written on this blog in almost 4 months, I am on twitter constantly. The obsession only grew when I got my iPhone and literally had it all day everyday with me in the palm of my hand. I think twitter is a great way to develop the relationships you have made with the people you met while blogging. It also often acts as a source of news (it's where I first heard about Osama Bin Laden's death) and always keeps my updated on my SVU scoop!
If one celeb read your blog who would you want it to be? The woman is way too busy, but my fave Mariska Hargitay. The woman can do no wrong!
What is something you want people to know about your blog? I may not post all that frequently, but what I post is 100% me. I am a twenty-something recent college grad trying to find my dream job in this crazy place they call the "real world." I'm obsessed with all things beauty-related, will watch Law and Order:SVU all day everyday, and will be a Carolina Gamecock fan until the day I die!!
Hope everyone has a great start to their week. If you have any kind of blog post you would like to see, please let me know! I'm hoping to put up a couple mail-order beauty box reviews and some favorite products soon! Love yall!!
xoxo
Natalie