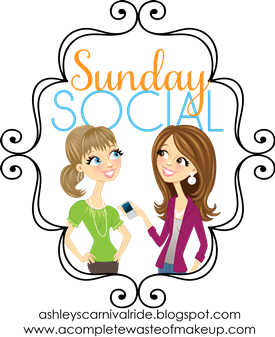 Once again linking up with Ashley and Neely for Sunday Social. Let me know if you guys link up I would love to read your responses!
Favorite movie of all time?
Even though I am not a huge movie person (I would much rather watch an episode of my favorite tv show) there are a couple that I will immediately turn to and watch when I see them on tv.
Grease
is just a fun movie to watch, even though it is a tad dirty (was anyone else surprised when they watched for the 'first time' with 'older' eyes and ears??) and the message isn't the greatest haha.
The Little Mermaid will always and forever be my favorite Disney movie. I can't really explain why, but ever since I saw it when I was 3 years old, I was hooked.
The Wedding Date wasn't a favorite from the start. When I first saw it in the theater, I though it was just ok since I had read the book prior and thought it was much better. But this is one of those movies that is on tv all the time, and as I kept watching it, I fell in love. I love Debra Messing and think Dermot Mulroney is pretty swoon-worthy, and I like how their relationship develops and his protective tendencies towards her (I'm a sucker for a alpha-male, protective type). If you're scrolling through the tv and see this movie on, definitely give it a shot if you haven't seen it.
Favorite movie quote? I pondered this question for a bit and not one quote could come to mind! Don't get me wrong I am a huge quote lover but most of my favorites come from music, tv shows, and books. So I didn't want to simply look up a random quote and stick it on here!
Best movie to watch for a girl's night in?
From the few link-ups I've already peeked at this seems to be a very popular answer! But there's a reason 99.9% of girls love this movie. It's the ultimate head-over-heels, all-consuming love story that is guaranteed to make you cry each and every time.
Best break-up movie?
I would consider The Holiday one of my favorite movies in general, but I think it's also a great break up movie. I think it shows what toxic relationships can do in your life, and how life DOES go on and there are better things to come when you least expect it. Also Jude Law isn't hard to look at ;)
Favorite celeb eye candy?
Ladies...I present Mr. Channing Tatum! Although I would also take any of his Magic Mike co-stars (Who else is SOO excited about this movie btw?!?)
Which movie star's closet would you like to raid?
I love Reese Witherspoon. I feel like her style is classic yet still on trend. I also love how you see pictures of her from years ago and they don't look dated or out of style. I hope I can say the same when I look back on pictures of me!
Hope you guys enjoyed this little Q&A! Have a Happy Monday!!
xoxo
Natalie