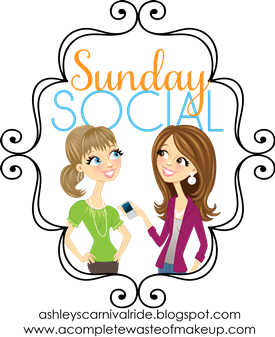 Linking up once again for Sunday Social. And it's another one about my favorite things...FOOD!!
If you could only eat one thing for the rest of your life, what would it be?
I know it's technically more of a 'group' of food then one food item, but I've always said I would want various types of chips and dips as my "final" meal. I'm craving some even as I'm typing this...
What's your guilty pleasure/comfort food?
Nice greasy cheesy pizza. Preferably with some marinara or garlic sauce to dip it in (clearly I'm a dip person)
What's the weirdest/craziest thing you've ever eaten?
I play it pretty safe when it comes to food, but probably the craziest combo I've ever done is spaghetti noodles with ketchup
What foods do you avoid at all costs?
beef (hence the spaghetti-ketchup combo), mustard, bologna, lima beans, sushi
What meal reminds you of your childhood?
When my brother and I were little our grandmother watched us every summer and I always remember she would cook the traditional Lebanese dish rice with noodles. Since I don't eat red meat this is one of the few Lebanese dishes I eat!
Share one of your favorite recipes and the story behind it.
Considering I don't cook, this was the toughest question this week! The only thing I have made with success is Buffalo Chicken Dip. I don't really have a set recipe I use, but this one is the closest except instead of baking mine I just mix all the ingredients in a pot on the stove and let it simmer until it's warm enough. Definitely a party favorite!
Have you linked up this week? If so let me know!!