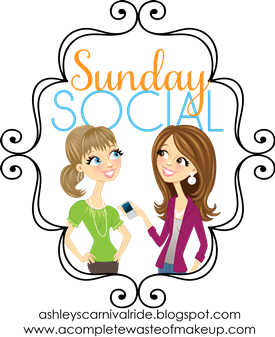 Once again linking up with Neely and Ashley for Sunday Social! Can't believe it's week 9 already. Even though I haven't participated every week this may be my most consistent link up! #progress
Here are this week's questions:
1. What is your favorite Fall activity?
College football (this will be a recurring theme in this post!), specifically SEC football


I enjoy everything about football, from the early morning tailgates to the night games under the lights of Williams-Brice, there is nothing like the atmosphere inside your home stadium.
2. Do you follow a football team? If so which one and why?
In case you are a VERY new reader, I will introduce myself: Hi my name is Natalie and I am a DIE HARD University of South Carolina Gamecock fan!
In South Carolina before you can even say your first words you are crowned either a Gamecock or a *dreaded* Clemson Tiger. The rivalry runs deep, you don't have to necessarily graduate from USC, but if you do that devotion to the garnet and black runs even stronger. I was a casual fan before I went to college, but being able to go to the football games every single weekend and sit in the student section made me just a tad obsessed with this team (I'm talking turning off Real Housewives and watching Sportscenter!).
3. What is something fun about Fall in your area?
Growing up in SC the first 2 weeks in October always mean the SC State Fair is coming to town! The fair is full of things to do and see, from simply people watching to riding rides and eating crazy fried food (fried Pepsi with a side of fried Snickers anyone?!?), there is something for everyone at the fair!
4. Fave Fall outfit staples?
Here are a couple looks I will be *attempting to* sport this fall
5. Thing you are looking forward to most about the coming Fall season?
So much anticipation this fall! Gamecock football, my 23rd birthday, starting my master's program, hopefully starting a new job, and fall tv!!
6. Favorite Fall holiday? Traditions?
Probably Thanksgiving. It's a pretty low key holiday for my family because my entire family gets together for Christmas, so we all go separate ways to the "other sides" of our families. So it's usually just our family of 4 at my parent's house eating your traditional Thanksgiving meal. Some years we head down to Myrtle Beach the day after Thanksgiving for some Black Friday shopping at the outlets...it depends on whether or not I have tickets to the Carolina-Clemson game, which is ALWAYS Thanksgiving weekend ;)
Hope everyone has a great start to their week!! What is your favorite thing about fall??