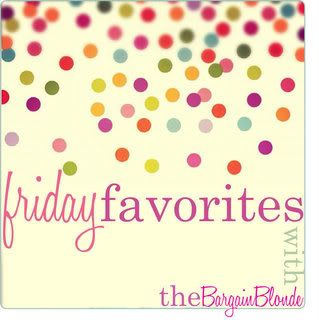 So I've been working at Sephora a little over a month now and have had a chance to try out *and purchase* some new products, so I thought I would share my favorites and link up with The Bargain Blonde!
All summer long I used the Dior BB Creme and loved the finish and look it gave me. But now that summer is behind us and I'm getting slightly paler, I've been on the hunt for a new foundation. I tried a Laura Mercier one and it was alright, but now I'm on my second sample of this Nars Sheer Glow and really like it! It leans more towards a light coverage foundation, which I prefer, and just tonight at work I had 3 different people compliment me on my skin and how great it looked. I've struggled with my skin for years now so to hear this is music to my ears!
Speaking of improved skin, I fully believe I owe A LOT of these improvements to my Clarisonic. I went back and forth for years on whether or not one of these babies is worth it, and believe me when I tell you it is! I have noticed differences in my acne, rosacea, and the overall texture of my skin. And apparently talking about these babies are my calling because I've been selling at least one of these babies every shift!
Purity is a cleanser that I have gone back and forth with for years. When I went through my first bottle I thought it was ok, but certainly nothing special. Tried out a couple drugstore cleansers, but when I got the Clarisonic I wanted to use a cleanser that didn't have any exfoliating properties since the brush does the exfoliating for you. Going through this second bottle I have come to terms with the fact that this cleanser is AWESOME. It has the typical 'philosophy' brand scent and really does the job of getting all the crap off your face! It cleanses really well but doesn't dry my face out and I use this twice a day. Whenever someone buys it at work I get excited and let them know they're just gonna love it!
I have a pretty extensive blush collection, but I'm starting to lean more towards pink-brown tones more so than the peachy-pinks. I guess I feel like the lighter colors accentuate my rosacea, and that's the last thing I want! Nars has pretty much cornered the market with fabulous blushes, so when I saw this one in store (and also found out it was used on one of Mariska's magazine photoshoots) I had to get my hands on it. It's a subtle color, even on my fair skin tone, but brings a healthy warmth to my face and gives it some depth after applying foundation.
I actually bought the lip gloss as a last minute sale item by the register before I even worked at Sephora. It's still available online and we have a couple left in the store, and it is a beautiful color! It's the perfect rose gold gloss that isn't sticky at all and is a great transition color for fall. I'm trying to beef up my lip gloss collection and branch out with different colors, so this was definitely a good addition!
Hope you guys enjoyed these couple favorites of mine!! Let me know if there are any products I need to be trying!
Click here to see all 31 Days of SCG posts